Trade Your Currency Via Live Bidding Platform!
Buy or sell your currencies to or from licensed money changer with the best bid or opt for instant offer using FCN marketplace! Only available for corporates.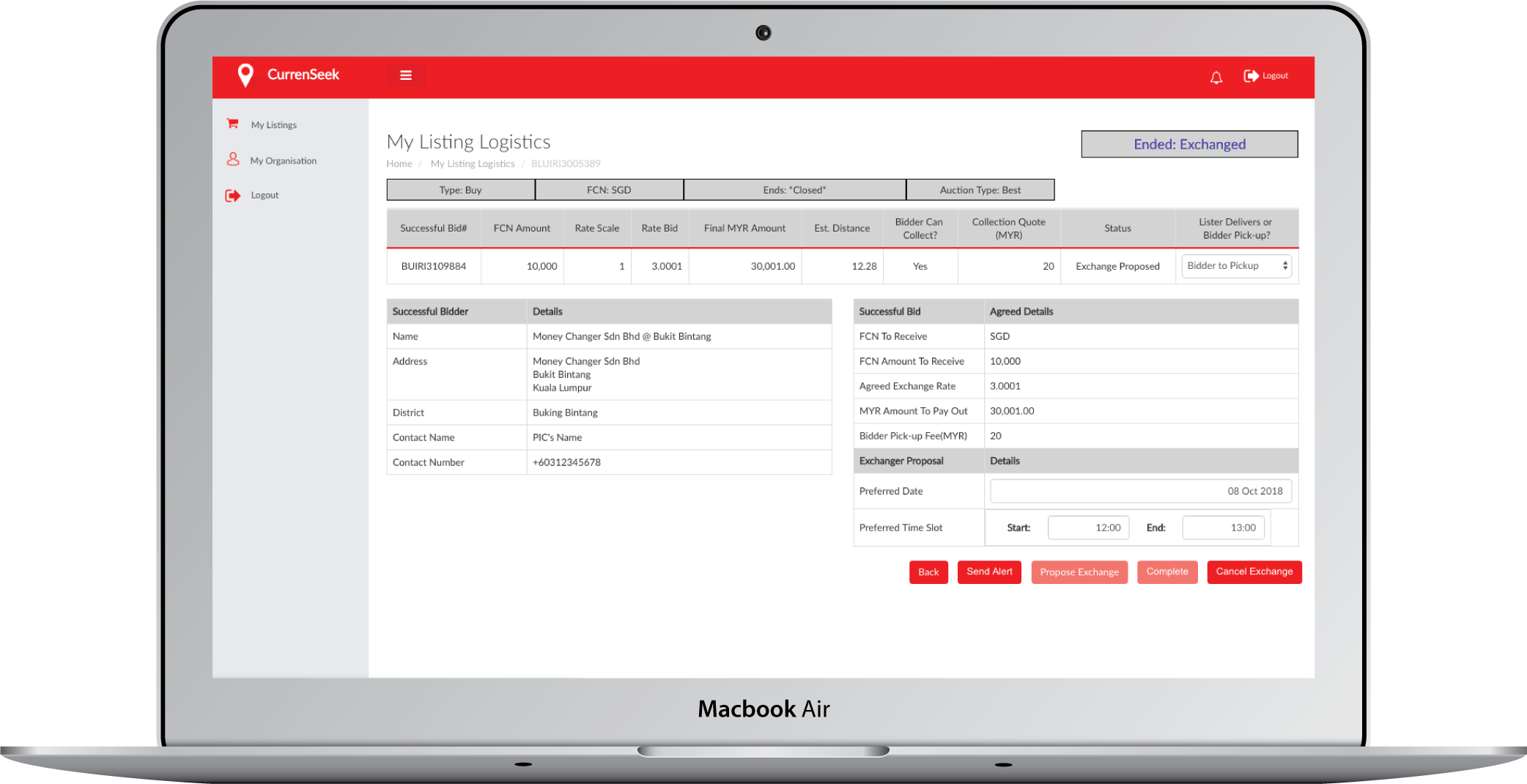 WHY USE THE FCN MARKETPLACE?
Getting the best exchange rates for your business needs with no extra cost!
SAVE TIME
No more shopping around. Submit your requirement and let licensed money changers to bid for your business!
Save Money
Extend your business network to a larger community of licensed money changers to obtain the best rates possible.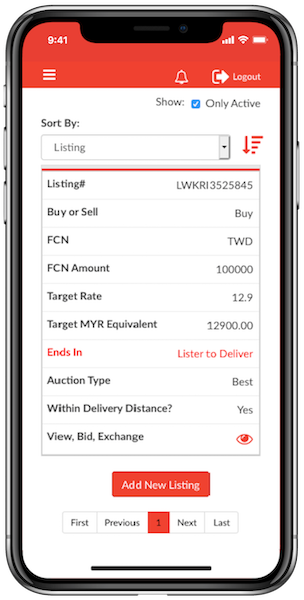 SECURE
Most of the participating money changers deliver to you. You can just pay online using your corporate internet banking (coming soon!)
FREE OF CHARGE
The FCN Marketplace is currently free of charge. So no registration or transaction fee involved at the present.
HOW IT WORKS
4 steps to exchange your currency conveniently, quickly and securely!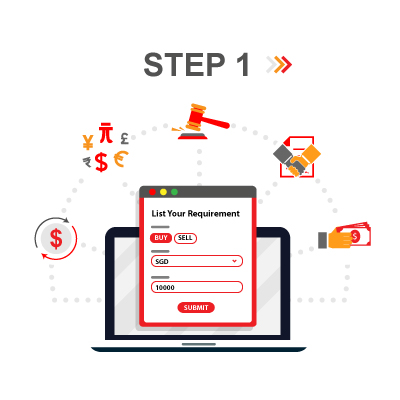 List Your
Requirements
Enter your foreign currency requirements – e.g. how much SGD you want to buy or sell, when you need it and if you'd like it delivered.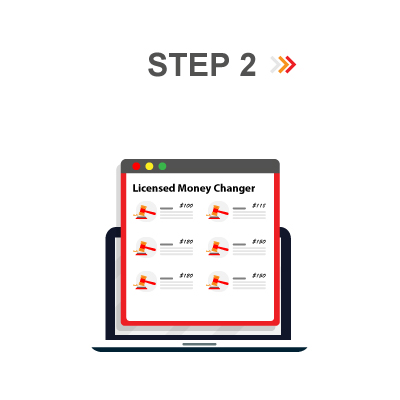 Wait For Offers
To Come in
Once you list your requirements, the licensed money changers will be notified and start offering you their best bids.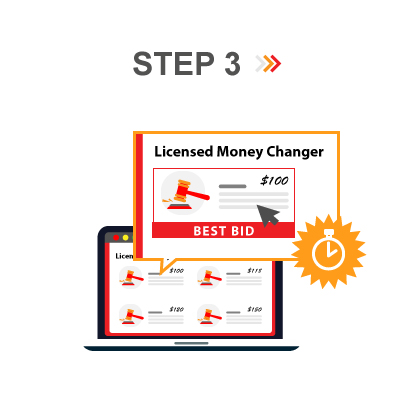 Accept The
Best Offers
Before your listing timeframe expires, you will start receiving bids. Pick the ones that work for you.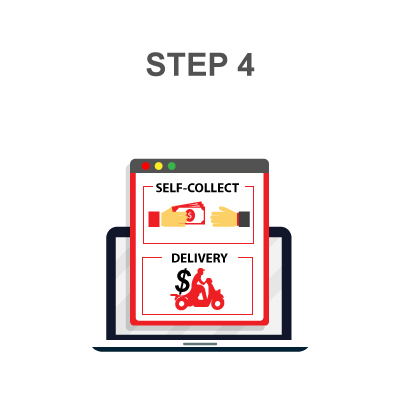 Arrange For
Pickup/Delivery
Once you accept the best offer, you can now arrange for pickup or delivery at your convenience.
Any other special requirements?
Chat with the winning money changer online to let them know
your special requirements using the built-in instant messaging feature!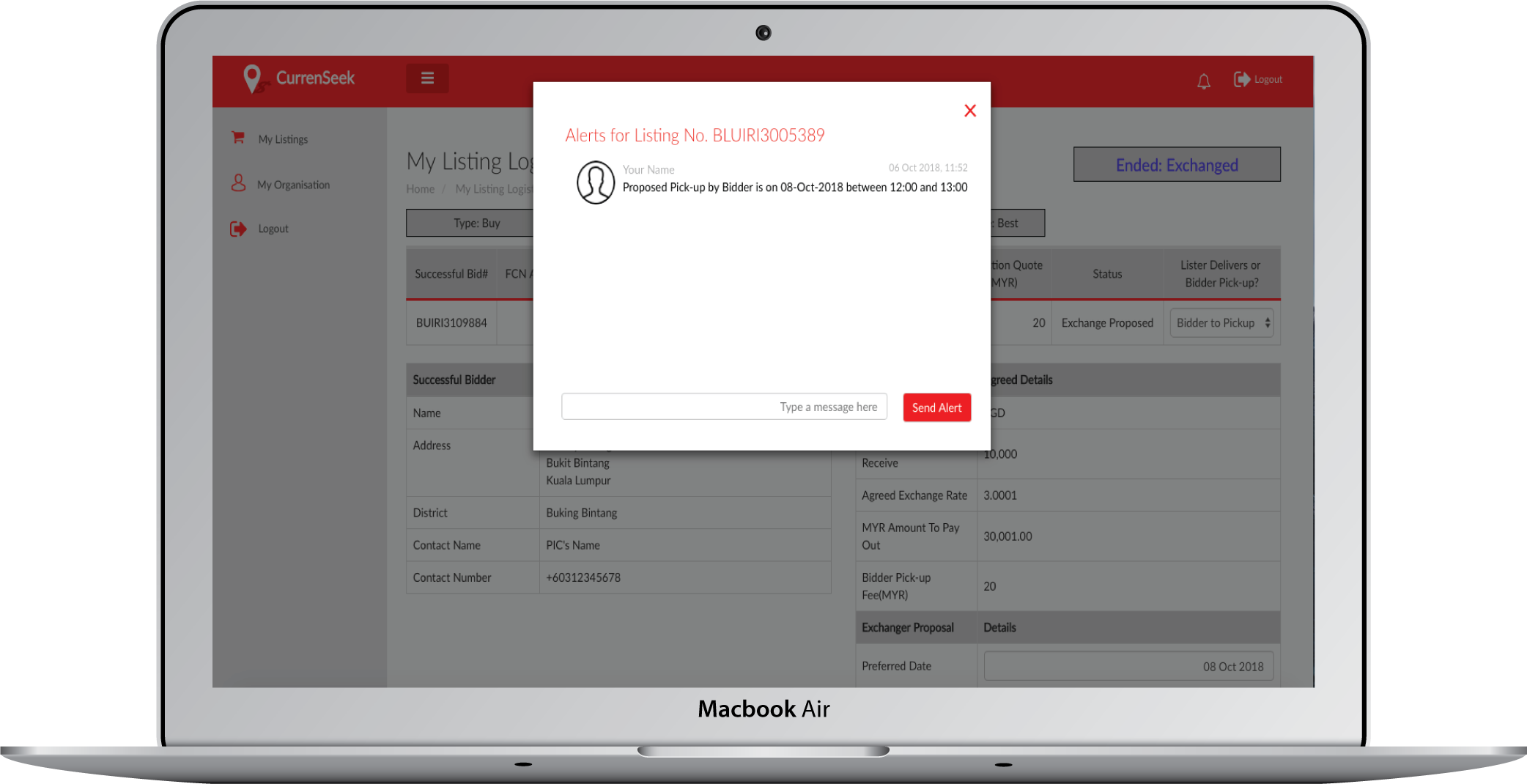 Frequently Asked Questions
The frequently asked questions are answered here. Any more questions? Chat with us!
How do I sign up for the FCN Marketplace?
The FCN Marketplace is available to any registered legal entity in Malaysia, but requires
certified true copies
of the following documents to be provided
as required by law
in efforts to combat money laundering and terrorism financing:
Private Limited Company (Sdn Bhd)
Certificate of incorporation
NRIC, or passport if foreigner, of all directors and shareholders with more at least 25% controlling interest
Sole Proprietor / Partnerships
NRIC, or passport if foreigner, of the sole-proprietor or partners
Business Registration Certificate (Form A / B)
Business License Forms (Form D)
Clubs, Societies and Charities
Certificate of registration
NRIC / Passport (if foreigner) of the office bearer(s)
You must also provide an executed letter of authority (see template) with NRIC, or passport if foreigner, of all persons, authorised to represent the entity.  This information will be protected by the Malaysian Personal Data Protection Act 2013, but the company documents will be shared with those licenced money changer participating in the FCN Marketplace from whom you've accepted a bid in order for them to conduct their customer due diligence in accordance with Bank Negara's Anti-Money Laundering and Counter Financing of Terrorism Guideline (please refer to §5.3).
Your FCN Marketplace account(s) will be created and made available to the specified authorised personnel via email to start listing your banknote requirements on behalf of your company.
Once the above documents are ready, please reach out to us at marketplace@currenseek.com to arrange for collection. Once this information has been verified by our compliance team, your FCN Marketplace account(s) will be created and made available to the authorized operators to start listings.
Noted:
You can register your interest in our FCN Marketplace (FCNM), but we cannot provide access until you have provided sufficient information about your business. Bank Negara Malaysia regulations require licensed money changers to conduct Know Your Customer (KYC) checks on businesses and their representatives before they can provide currency exchange services. You will need to provide your business registration documents, which we will check and ONLY make available to the money changer you finally accept a bid from on the FCNM. Money Changers whose bid you do not accept will not see your business credentials. Once you have registered we will request and keep you informed on the progress with your document submissions and necessary checks.
AS A CORPORATE ENTITY, DO I NEED TO PAY ANY FEES TO USE THE SERVICE?
No. The service is currently free of charge for corporates
ARE PAYMENTS FOR EXCHANGE MADE DIRECTLY VIA THE MARKETPLACE?
No, you need to arrange payment directly with the licensed money changer who has successfully bid.
How can I be sure that the bids I receive are from a licensed money services business?
We only allow 
licensed money services businesses registered with Bank Negara Malaysia
 to access our marketplace and to make bids for your foreign currency requirements. The participating money services businesses are required to submit a copy of their license. Only after this information is verified by us will they be allowed to participate in the Marketplace.
What's the difference between best and instant auction types?
Best means you would normally wait until the end of the Listing to decide which bid to accept. Instant means if a bidder meets your target rate the bid can be automatically accepted and the listing ends early.
How can I be sure that my trading partner will honour their deal?
All bidders participating on the marketplace will have to be licensed money services businesses under Bank Negara Malaysia who undertake to complete each confirmed deal to the best of their abilities. Money services businesses who do not honour their deals will be blacklisted and barred from using the Marketplace.
CAN EITHER PARTY CANCEL A LISTING AFTER A BID IS ACCEPTED?
Both parties should ideally agree to cancel an exchange. If you have made an error in listing, or have accepted the wrong bid, we would advise you to contact the bidder to explain the situation and work it out among yourselves. If no mutual resolution is achieved you are allowed to cancel the exchange, but all cancellations will be monitored and if there is not a good reason you may be stopped from accessing the Marketplace in future.
I WOULD ONLY LIKE TO RECEIVE BIDS FROM PARTICIPANTS THAT ARE GEOGRAPHICALLY NEAR MY BUSINESS, SO I CAN QUICKLY RECEIVE MY SUPPLY OF CURRENCY. DOES THE MARKETPLACE HELP WITH THIS?
Yes, you can set the maximum distance when listing to only be seen by licensed money changers in your area, but be aware that this might restrict the bidders. If they are prepared to bid and deliver, you should still get your currency quickly.
Want your regular
licensed money changer on this?
If you know of any licensed money service business who you'd like
to see on this platform, let us know by emailing marketplace@currenseek.com.
As Seen On
Thanks to members of the media and comrades in the startup
ecosystem and beyond who have helped us get the good word out!
From CurrenSeek's Blog
CurrenSeek speaks on travel saving tips and more…
Comments are closed.