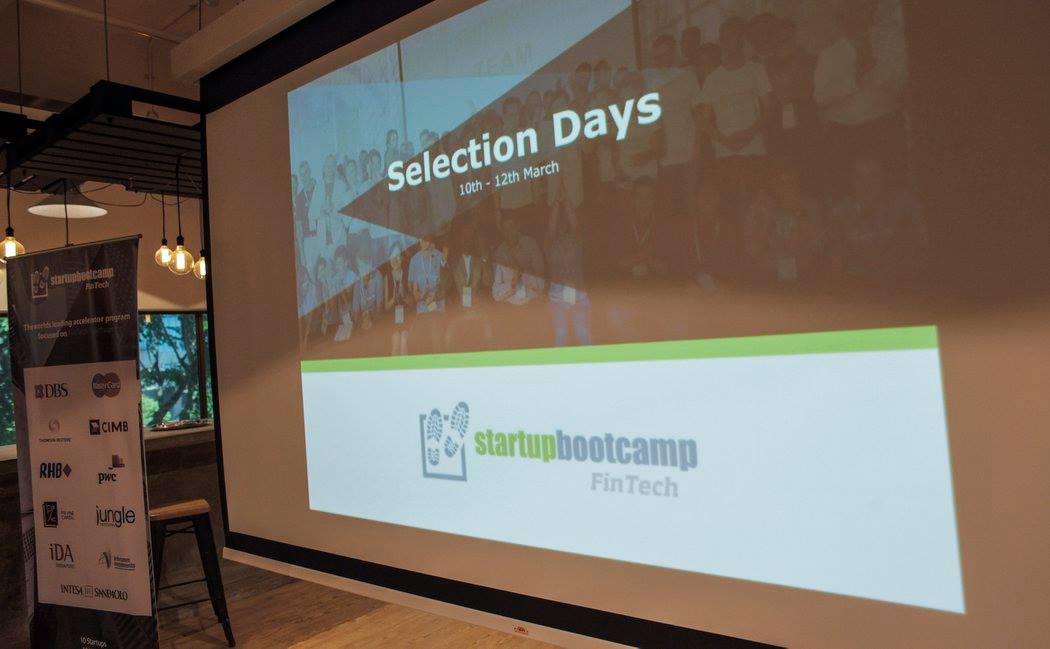 I was sharing with a fellow peer at Startupbootcamp Fintech Singapore's Selection Days my thoughts on our journey. Let me use a metaphor to describe it clearly. If you've ever travelled to a new country, you'd know what it's like to become navigationally challenged. From finding your way around MRT stations to making sure you get off the right bus stop, your senses become incredibly heightened and you notice things around you other locals wouldn't need to notice. You HAVE to. You're constantly searching for directions and looking for answers outside your comfort zone.
The startup journey is no different. For the past 3 years of my life, I have been in this 'super heightened alert' mode. I have travelled from Silicon Valley to Finland and now to Singapore in search of answers for two startups I was involved in prior to CurrenSeek. To some extent, you grow to love the adrenaline of 'not knowing' everything, to appreciate the vulnerability of having to ask strangers for directions and mentorship in new unexplored terrain, to being on the edge of things and risking time, money and higher-paying job opportunities to stay on the straight and narrow path—especially if you believe your innovation can bring value to this world.
Thank You, Shepherds of StartupBootcamp.
StartupBootcamp Fintech Singapore's Selection Days would help us kick start another leg of our 'far from comfortable' marathon. On behalf of team CurrenSeek, I'd like to thank Steven Tong Carsten Kolbek, Andy Shannon, Fiona Maguire, Kimmy Paulino, Kate Fitzpatrick and Tobias Fischer and the organizing team, as well as all the many mentors present at the boot camp for having given us a most intense yet valuable "pre-selection" experience. One of my first impressions of the event was that it was incredibly organized. Often, we take these simple things for granted. So much hard work goes behind the scenes into making things run seamlessly on the front end and getting 20 startups in the right place, at the right time.
The timeline was tight as we went from countless startup workshops to mentor meetings, social events and partner meetings. And a big reason why we didn't go astray was due to our dedicated Startupbootcamp shepherds, herding us oft-blur, navigationally challenged teams around the big BASH building with clockwork efficiency! Chop-chop, next meeting. Out from one room, into another. No time to pee, nor check on piling work emails from back home. Startups: my advice to you would be to clear as much work as you can before attending Startupbootcamp's Pre-selection Days—there is NO time for much else, and you want to be present of mind there to absorb as much as you can.
If You Want Fintech Support in Asia, Apply for StartupBootcamp Fintech Singapore.
Another huge takeaway from the event was how highly targeted it was. Most startup events carry overarching themes, promoting all spheres of innovation—but this realm is INFINITE! If you're a FinTech startup looking for niche growth advice, product validation, and financial partners who can support and pilot your idea, Startupbootcamp Fintech Singapore is a great place to start—partly due to the fact that the Singapore government itself is now pumping a significant deal of funding, support and focus into this area. (Hence for Singapore being renowned as FinTech capital of Asia.)
CurrenSeek was blessed to be among the top 20 teams to be selected from 360 Fintech startup applicants from around the Asia Pacific region to undergo the selection days. (The final results are covered here.) We found ourselves surrounded by world-class peers in their own right, and it was difficult to know that half of the cohort would sooner or later be whittled down to just 10. Startups were advised to print out their schedules, record key workshops, take notes, write down their questions, initiate discussions, and find out 'who' we were going to meet in both mentor and partner meetings, so we could angle our story to fit their area of need, waste less time, and get the most out of our sessions.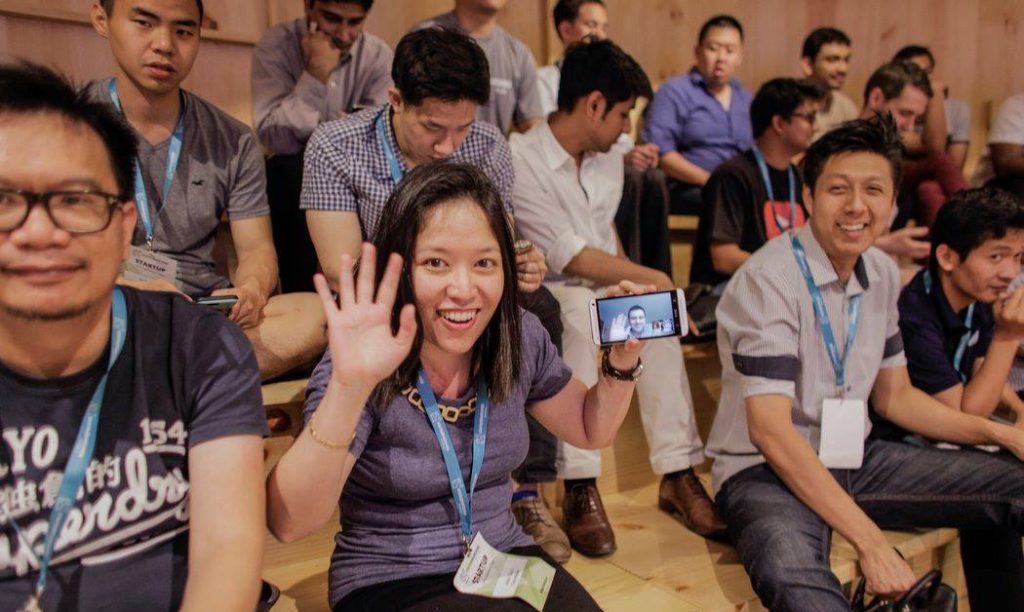 The talks by Andy Shannon on Mentor Management and Vishal Harnal of 500 Startups on the current investment landscape in Singapore and South East Asia, to name a few, were insightful, factual and practical. On day three, we presented our pitch and had the privilege of meeting a mixture of financial institutions (government and corporate) and investors, including: PwC, Intesa SanPaolo, the Monetary Board of Singapore, Thompson Reuters, MasterCard, IDA, DBS, Pix Vine Capital, Infocomm Investments, Jungle Ventures, RHB and CIMB. The build up to day three was instrumental, as we got the opportunity to explain our product in greater detail to potential partners, bounce off ideas with banks, and gauge their real level of interest in our product.
CurrenSeek, Improved.
Launched around mid last year and growing in organic traction (both in terms of user contribution of rates and money changers' adoption numbers), we're seeing steady growth with little or no marketing funds at the moment. As a company we seek support to further expand our innovation capabilities, geographic coverage areas so more travellers can save their hard-earned travel cash by being informed of the best rates, and enable moneychangers to gain greater visibility for their outlets, especially if they're tucked in more hidden corners of the world. Startupbootcamp Fintech Singapore helped us to simplify our pitch and streamline our many future plans down to a more realistic and prioritized step-by-step implementation plan. When you have a clearer picture of the roadmap ahead, the future seems less scary—and to a startup, 'less scary' is a major thing.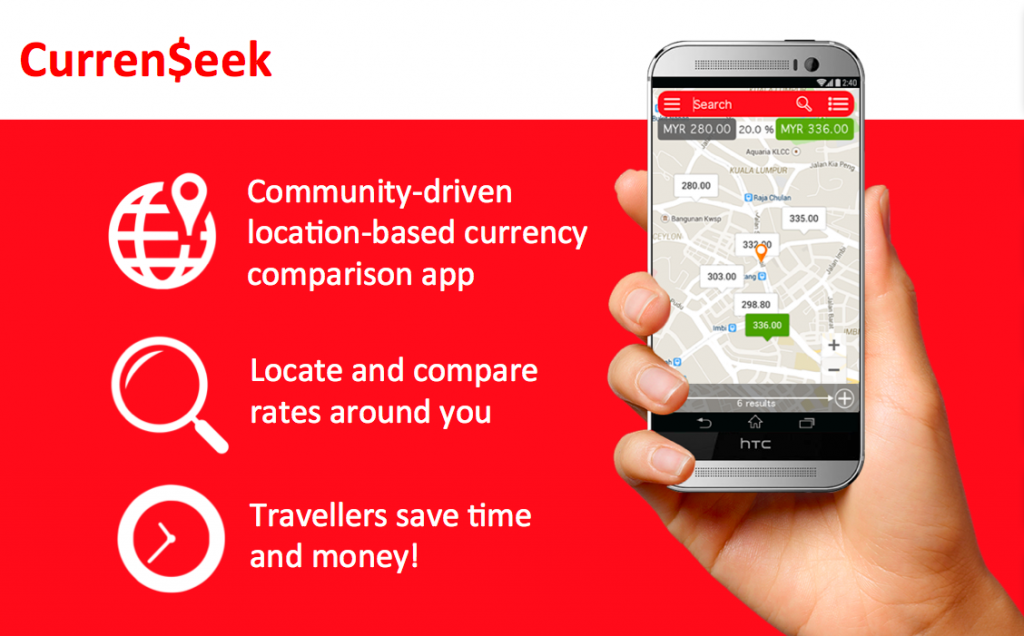 Interview With The Psychologist
It sounded odd to us at first. In Malaysia, seeing a psychologist isn't a common affair and reserved for those with more 'serious' psychological issues. So when we heard that seeing a 'shrink' was part of the thing, we were mildly surprised and somewhat nervous. Serious business here! (Reportedly, the meeting was meant to figure out our personalities and our team's working relationship.) I was even more surprised by the fact that both my co-founder and I cried at the 'psychologist' meeting. Talk about making a good first impression! One of the Startupbootcamp heads remarked later on in the day—that 'some' startups cried due to 'stress.' While this may have applied to others (umm, if there were 'others' who cried?), allow me to point out that that wasn't the main reason we shed tears. Prior to our unexpected fountain works, the psychologist had asked us: "How do you view failure?," and I shared something personal my co-founder had taught me. It's a Pulitzer prize-winning picture of a starving African child being stalked by a vulture. Explained he to me on the picture: "No failure we go through in life comes anywhere near that. I'd blow this photo up and frame it on the wall with the caption, 'COMPLAINTS?' and remind myself to be grateful for where I am today." Morbid as it sounds, this is how I view failure too. We are not keeled over from near-death hunger and being stalked by vultures, no matter how low we go on finances or if a major business deal does not go through. We cried because as we shared this, it struck a chord in our hearts, and we remembered how fortunate we are to have come this far. And I think no words would have expressed that better than tears.
Take your Team With You Wherever You Go
Another one of our key co-founders could not get his Visa in time to join us for the event, which was painful for him. So we Skype-d and Facetime-d him in for crucial meetings, and kept him updated on all event on-goings. While not bodily present, he sat in with us (or at least his HEAD did!) and said hello to investors, bankers and mentors from our laptop screens, and even came with us to joyfully pick up the prize: acceptance into the Startupbootcamp Fintech Accelerator 2016 Programme Cohort 2.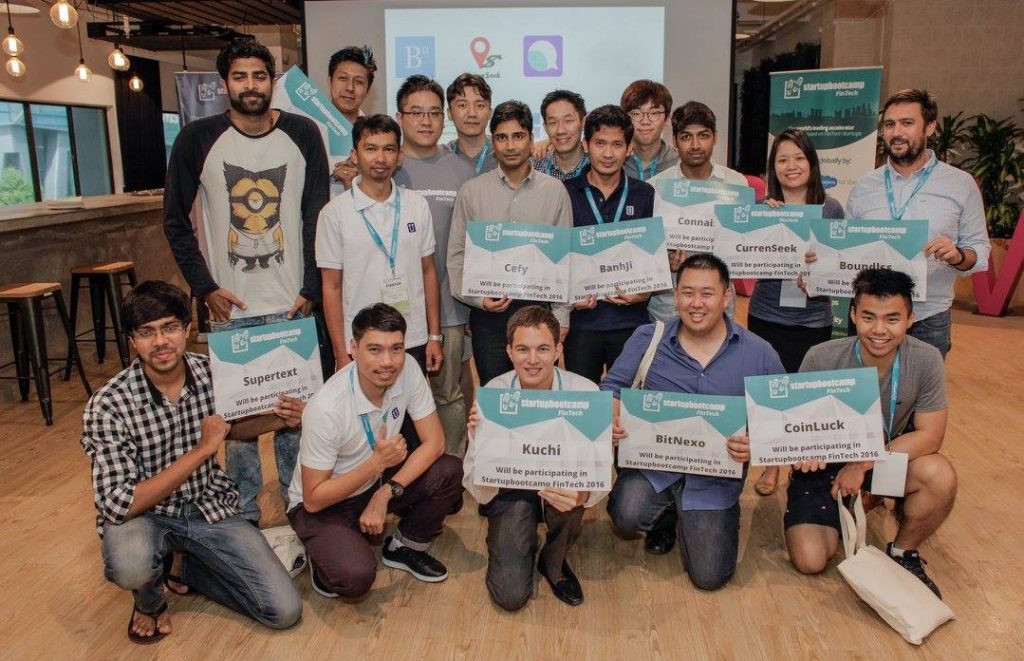 We're looking forward to seeing our friends at Startupbootcamp again in about a month's time, and getting better directions to drive CurrenSeek further alongside some really innovative FinTech startups.