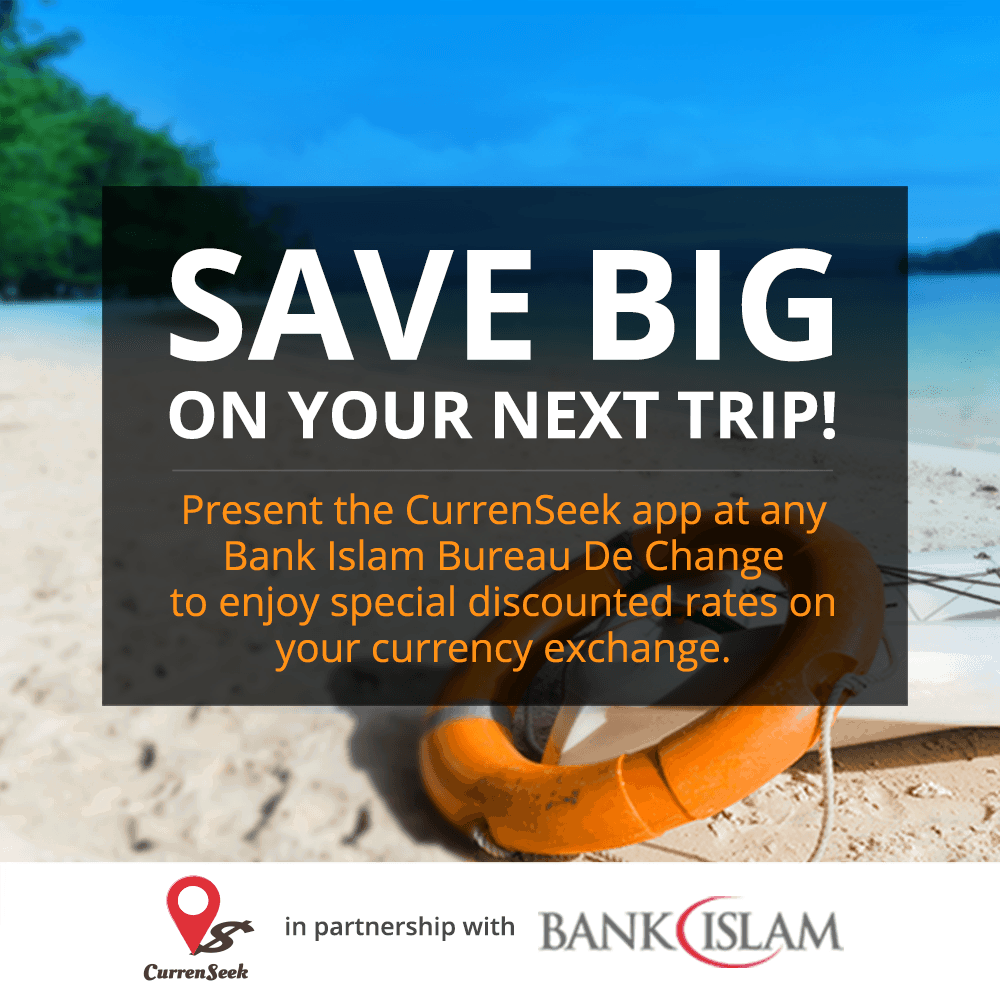 Planning to travel soon and love preferential rates? We're joining forces with Bank Islam to help travellers stretch their travel currency further and save big on their next trip! From the 1st of March 2017 onwards, CurrenSeek users who show the CurrenSeek app to any Bank Islam Bureau De Change outlet* (see coverage locations below) will enjoy discounted rates, subject to the terms and conditions
determined by Bank Islam as follows:
Terms and Conditions:
Bank Islam Malaysia Berhad ("Bank Islam") via its Bureau De Change ("BDC") is offering special discounted rates on currency exchange SUBJECT to the following terms and conditions:-
The special discounted rates offer shall be applicable when the CurrenSeek application on one's mobile device is presented at Bank Islam BDC.
The offer is available for currencies traded at Bank Islam BDC and limited to
currency exchange undertaken at Bank Islam BDC only.
The special discounted rates are given against prevailing rates at the respective Bank Islam BDC.
You may enjoy special discounted rates on more than one currency at one time.
There shall be no limitation on the number of occasions that you are entitled for the special discounted rates.
Exchange of currency is subject to availability of the stocks at the respective Bank Islam BDC.
No service fee will be imposed for the currency exchange.
The currency exchange transactions are subject to all prevailing terms and conditions imposed by Bank Islam and all applicable statutory and regulatory requirements.
Bank Islam reserves the right to suspend, withdraw and/or discontinue the offer for special discounted rates and vary any terms and conditions at any time and from time to time as Bank Islam may deem fit with or without notice to you.
* Bank Islam Bureau De Change Outlets: At KLIA and KLIA2, KL Sentral, Bukit Bintang, Swiss Inn KL, Taman Seri Mudah, Setia Walk and Penang International Airport.