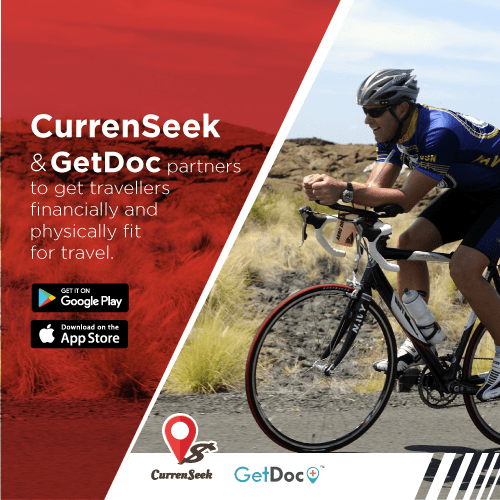 According to Statisca, approximately 45% of travellers said that the news headline that worried them the most before embarking on a journey was an outbreak of illnesses and diseases. Another report showed 39.6% of tourists on cruise ships suffered from seasickness, quarantines and stomach illnesses while on their cruise.
Indeed, key to getting the most out of your well-deserved vacation is obtaining pre-travel and post-travel health screenings (the former one should be checked consistently, in any case).
At CurrenSeek, we believe every traveller deserves an undisrupted business trip; a fully rested break; or even an action-packed adventure of a lifetime! This is why we've partnered with GetDoc to offer something special to CurrenSeek users! You get an EXTRA 5% off in addition to the 10% discount currently being offered by GetDoc upon completion of currency exchange booking via the app.
HOW TO CLAIM YOUR HEALTH SCREENING DISCOUNT:
GetDoc lists 175 panel clinics around town available at your service. All you have to do is click here and hit the "BUY NOW" button on the package which fits you!
IMPORTANT: Once you've keyed in your credit card details, don't forget to key in the PROMO CODE that you would have received from CurrenSeek via mobile app notification after collecting your foreign currencies from your favorite money changers. Enjoy your 15% savings.
Travel healthy and happy!
For enquiries on this campaign, kindly contact hi@currenseek.com