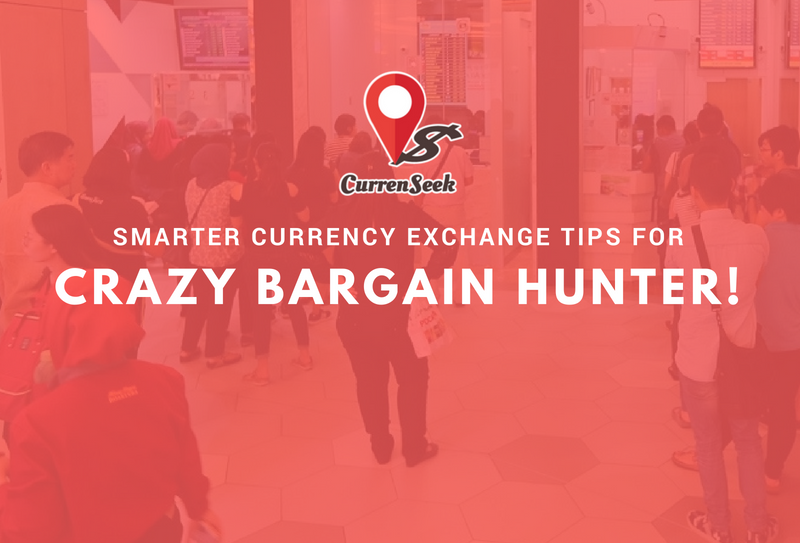 Are you a hardcore deal hunter? No matter where your favourite money changer is, you're prepared to travel there, even if it's located on the other side of the town? The hassles of driving, traffic jams, finding parking, and queuing up at popular money changer facilities can easily consume hours of your precious time, but it's all worth it in the end…
The desire to find the ultimate deal is a highly respectable frugal trait! As proud bargain hunters, we all aspire to unearth the best deal and share our new-found bargain secrets with friends and family. Clinching the best deal can trigger a release of dopamine, the feel-good brain chemical that crowds out all other pains and inconveniences involved in the chase!
Let's analyse how one would normally tackle hunting down the best currency deal:
1- Decide Where To Exchange
First, decide whether to exchange your currency at your destination or nearer to home. For most seasoned travellers, it's always safer to have some foreign currency in hand ahead of your trip; as you never know what the rates may be, or if there are reasonable money changers at the airport. You'll also most likely need cash to go from the airport to your hotel destination. Here's a true actual account of one lady traveller who didn't carry cash with her to a famous travel destination; it's seriously worth the reminder!
2- Where to get the best deal?
Let's assume you decide to exchange some money for your upcoming trip in your home base. Many deal hunters already know where to get the best currency exchange deals; it's hardcoded in their system! They would be willing to go the distance, without being aware of the fact that there may be smarter alternatives accessible through their smartphones—right in the palms of their hands…
3- Start up the engine 
Now you get into your car to drive to your targeted currency exchange facility, potentially adding to your cost by having to pay a toll. When you finally get to one of the busiest currency exchange hubs in town—Midvalley Megamall—a new battle unfolds… finding an available car parking lot! That can take about half an hour of rounding the confusing labyrinth-like maze of parking bays, if you're lucky! It's also best not to forget to take a snapshot of your parking lot number so you don't lose any more precious time having to retrace your steps afterwards.
4- Now Time for finding an ATM
An important question to add to your checklist: Do you have enough cash with you for the exchange? No? Time to search for the ATM. Prepare for a queue and to wait patiently in line—because switching to another shorter ATM line that doesn't belong to your bank and having to bear another RM1.06 in additional charges just won't do for you! (Whoops, correction, that should be RM1.00 minus GST as of 1st June 2018!) You also have to bear in mind that ATMs have withdrawal limits and ensure that you raise the limit beforehand, if required, to ensure you have sufficient Ringgit for withdrawal.
5- Stay calm, cool and collected
After withdrawing what you needed (or what you can!), you stuff the money quickly in your wallet (usually quite a hefty task if it's a large stack of cash!) or deep inside your pockets, eyeing the vicinity around you cautiously to make sure nobody notices how bulging your pockets are. You try your best to iron out the bulge. "Stay calm, cool and collected," you repeat to yourself as you head towards the money changer, trying not to run like the Mafia are after you, and raise any suspicions!
6- Keep yourself distracted
Once you get to your favourite money changer in one piece, there's another long snaking queue ahead of you. You appease yourself that all the waiting is worth it for the "best value" you're getting, and start catching up on some Korean dramas on your smartphone. You hope two important lifesavers don't run out before you get to the front of the line, or worse drama could unfold: your mobile data plan, and "stock" of the particular currency you're aiming to get!
7- Give yourself a pat on the shoulder 
Finally, you get to the counter and they have enough currency! Congratulations! You produce your identification card, which is required for exchanging large amounts. Successfully equipped with your foreign currency in hand, dopamine starts kicking in. It's been a fruitful day, you're almost there… Only thing is, the trip back to your car feels like the longest marathon ever with much heavier pockets, and everyone around you turns into greedy stalkers tailing you!
NOW WHAT IF THERE'S A SIMPLER WAY?
To all bargain hunters out there, we invite you to rethink the situation: After counting the total costs and risks involved, do you really think you're getting the best deal? What if we told you there was a much better way to exchange your currency, minus all the hassles, travelling costs and risks—at equally satisfying rates to appeal to the smart bargain hunter in you?
With CurrenSeek, you get to compare deals and lock-in the best exchange rates by ordering your currency online; pay securely via Internet Banking, and then pick up your foreign currency conveniently and safely at our 24/7-open Pick-up facilities at KLIA1 or KLIA2 right before boarding your plane! That's steps 1 to 7 above compressed into a few short, simple clicks. So what method of exchange will you choose for your next trip?
Visit www.currenseek.com/pickup to find out more!