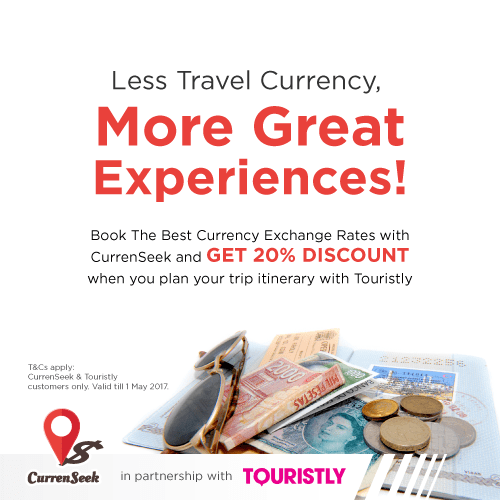 From booking your travel currency with confidence to planning unforgettable holiday activities in your country of destination, we want to help make your all round travel experience an affordable and rewarding one. Thanks to our latest strategic collaboration with Touristly, you get to enjoy 20% OFF TRIP ITINERARY BOOKINGS when you complete an online exchange via CurrenSeek.
It makes perfect sense to plan all aspects of your much-anticipated vacation ahead of time, from getting the best currency exchange rates you need via CurrenSeek to spending it on the most carefully-curated local activities on Touristly (spanning everything from quality sightseeing tours, to exciting attractions, theme parks, and more!).
Read the full details on our latest promotion below and happy travels!
How To Apply and T&Cs:
1. To redeem your discount, you need to:
i. Visit touristly.com.
ii. Plan and book your personalized trip itinerary
iii. Key in the promo code upon checkout (you'll receive this code right after you exchange your
currency with CurrenSeek via an app notification)
iv. Happy traveling for less!
2. Discount is applicable for CurrenSeek customers who complete currency conversion transactions by booking foreign currency and collecting the booked currency from their chosen moneychanger (*eligible transaction*).
3. The Promo Code value is 20% discount valid for use on Touristly only.
4. The campaign expires 30th September 2017 (11:59 pm GMT +8).
5. Promo code is only valid for one-time use per customer.
6. Promo code is valid for use on all tour, activity and attraction bookings on touristly.com.
For enquiries on this campaign, kindly contact hi@currenseek.com