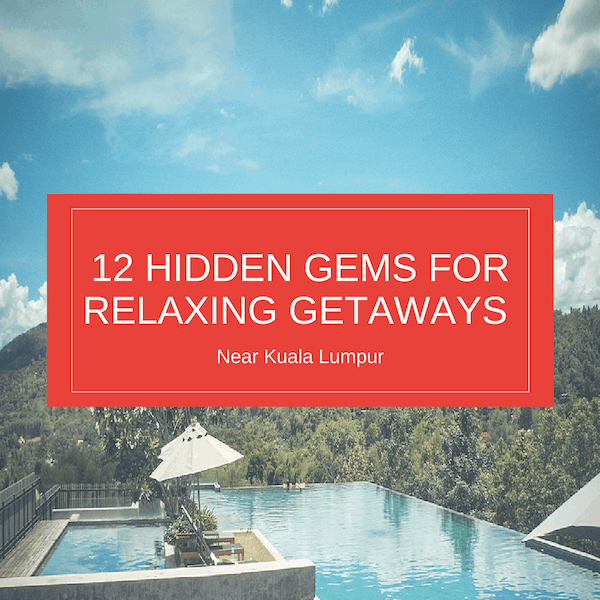 After a long and tiring work week, it's normal to crave for a relaxing weekend getaway or short escape away from KL city, but the cost of flight tickets and accommodations can break the bank easily. The solution? A relaxing budget staycation less than 2 hours away from Kuala Lumpur, so not only do you get to save money, you also don't have to travel far!
Having searched for a little weekend solace ourselves, we've curated 12-weekend getaway ideas that are not only awesome retreats but lesser-known hidden gems that aren't teeming with heavy commercial tourist crowds, plus make perfect private romantic getaways too!
Without further ado, here are 12 weekend getaway from KL that are perfect for your short escape for your consideration:
Adeline Villa & Rest House at Gopeng, Perak
If you're a nature lover who's looking for an adventure, Adeline Villa is the perfect place for you! Situated in the middle of a rainforest, not only can you enjoy the tranquillity of nature, but there are also plenty of outdoor activities to be done! From water rafting to caving, there are plenty of options for both solo and group travellers, especially if you're a company looking to host team-building activities! Psst, the food served at the villa has had raving reviews from visitors on TripAdvisor with some even claiming it's worth to visit the resort just for the food.
Note: Bring your own towels and toiletries.
Address: 13302, Mukim Kampung Geruntum, 31600 Gopeng, Perak, Malaysia
Open in Google Maps
Activities: Water rafting, kayaking, jungle trekking, and caving
Prices: Start from RM150 per pax, including breakfast, lunch and dinner. Packages that include 3 types of activities are also available, starting from RM375!
Social media channels: Website Facebook Instagram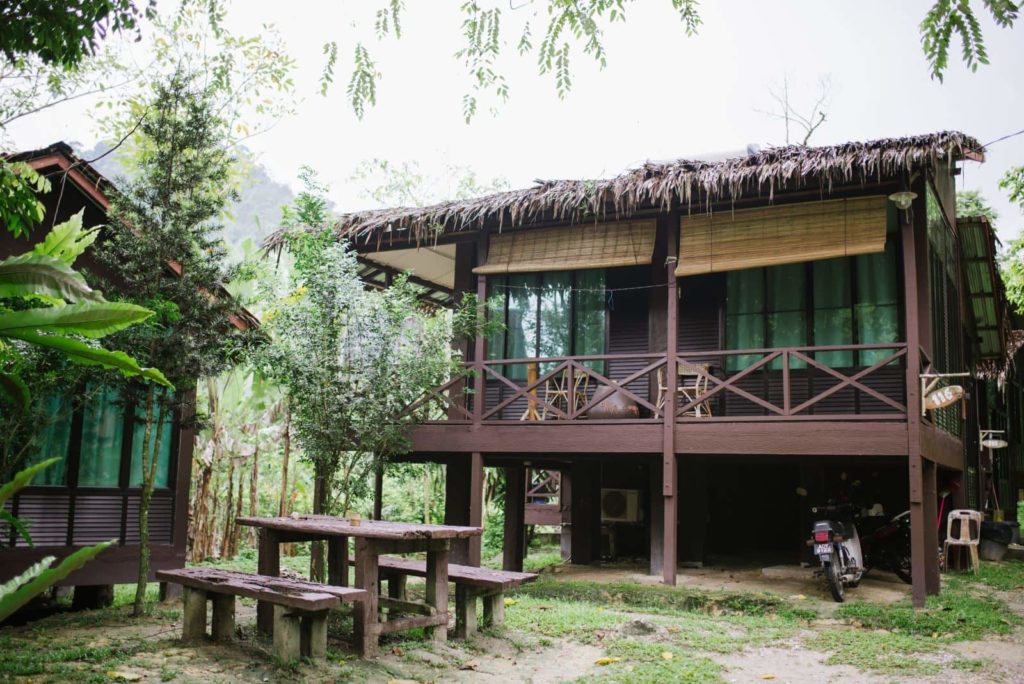 The Dusun at Seremban, Negeri Sembilan
Choose from 5 uniquely themed houses, from the Berembun House (a Malay-style house on stilts) to the Sora House (a modern villa). Best of all, The Dusun comes with an infinity pool, and the view overlooking the jungle is nothing short of amazing. Visitors are also able to hold their own barbeque parties at the resort, as well as participate in jungle trekking, photography workshops, and a bird discovery walk. If you're looking to venture out, you can take half-day trips to an Ostrich farm, Sri Menanti Museum, and the local wet market or a day trip to Malacca!
Address: 3437, Kampung Kolam Air, Mukim Pantai, 71770 Seremban, Negeri Sembilan, Malaysia
Open in Google Maps
Activities: Swimming, jungle trekking, photography, bird watching, massage
Prices: Start from 400 RM per night
Social media channels: Website Facebook Instagram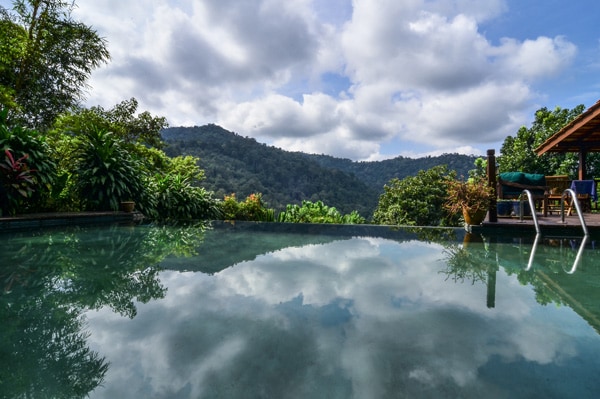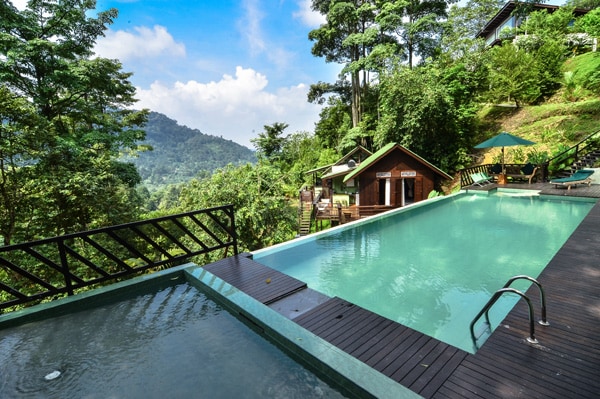 ---
Awanmulan at Kampung Jelebu, Negeri Sembilan
This is a strictly by reservation-only resort that consists of a small collection of homes located close to nature. You'll find 2 swimming pools here: one offers a tranquil view of the jungle and another a breathtaking view of the sunset. If you're looking for a quiet getaway from the trappings of modern living, this is it.
Address: Seremban, Negeri Sembilan, Malaysia
Open in Google Maps
Activities: Swimming
Prices: Start from RM400 per night
Social media channels: Website Facebook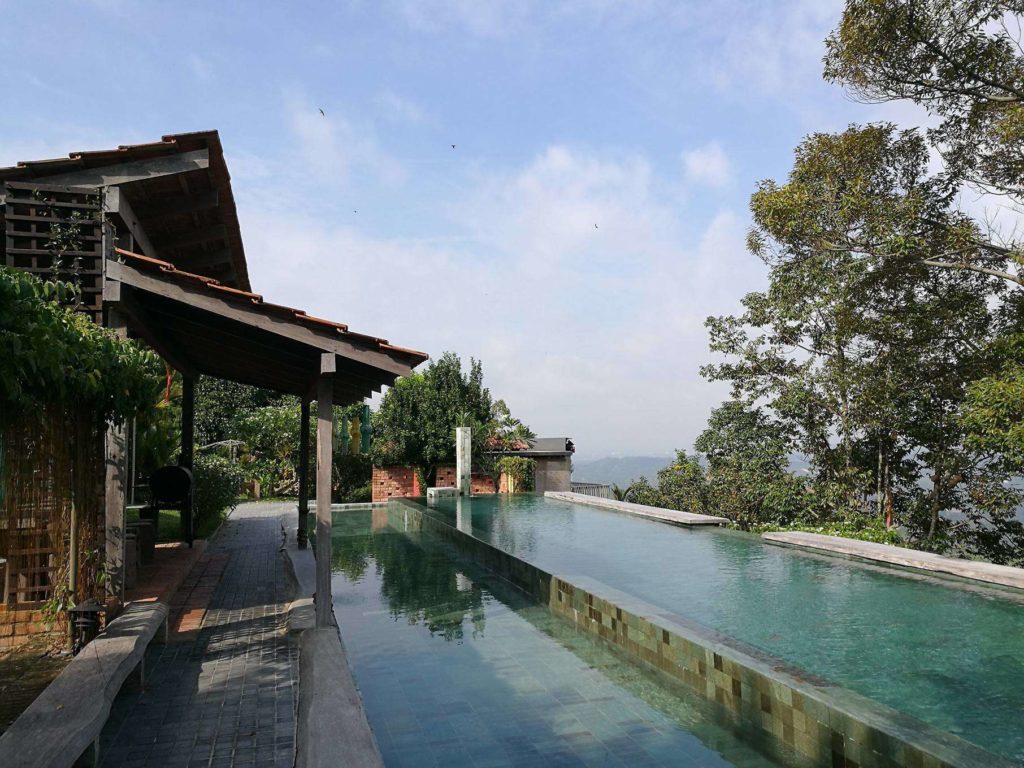 Enderong Resort at Tanarimba, Janda Baik in Pahang
For larger group getaways such as company team-building trips, Endarong is the perfect choice, thanks to the availability of an annex hall to host your functions! Located next to a nature trail, you can refresh yourself with a morning walk to the forest nearby, next to the mountain stream the highland nature retreat is named after: Sungei Enderong. However, if you prefer a more intense workout, Enderong Resort offers guided jungle trekking tours, which is an excellent way to experience nature at its finest! Want to channel your inner Legolas or Katniss Everdeen? The resort also lets you participate in archery, and users can take part in a mini tournament to see who is the best archer!
Address: Persiaran Enderong off Jalan Tanarimba Pine, Tanarimba Janda Baik, 28750 Bentong, Pahang, Malaysia
Open in Google Maps
Activities: Archery, nature walks, jungle trekking, nature discovery
Prices: Start from RM370 per night (including breakfast)
Social media channels: Website Facebook
With so many hidden gems near Kuala Lumpur, you'd be wrong not to take advantage of them and book yourself a relaxing staycation today!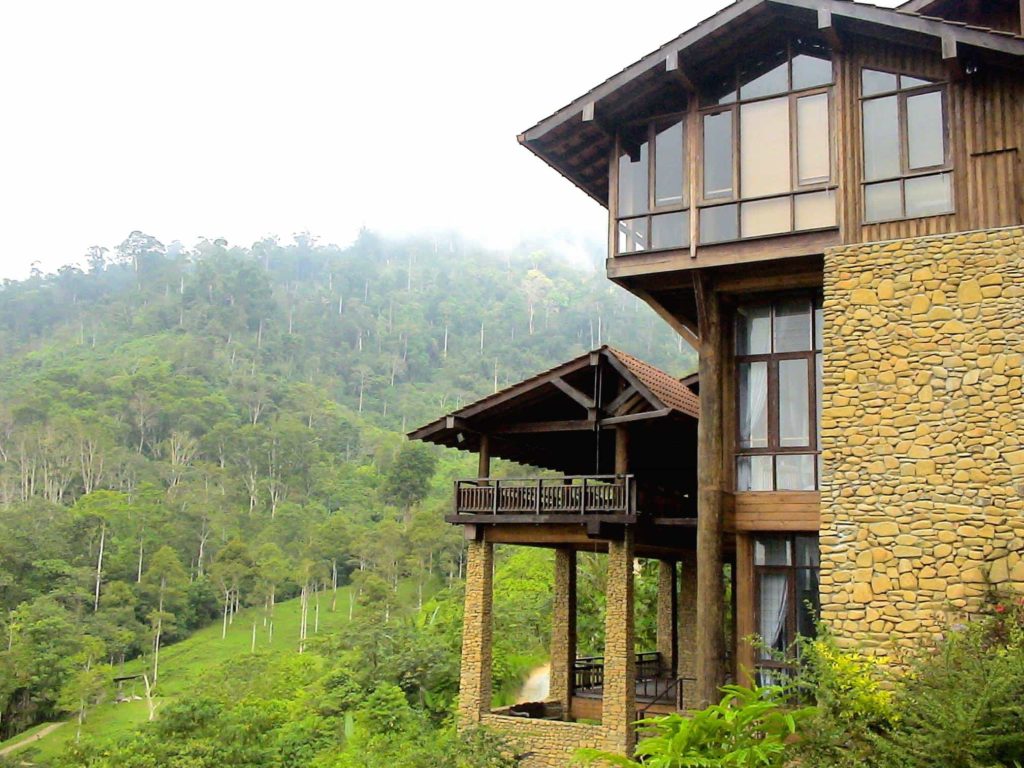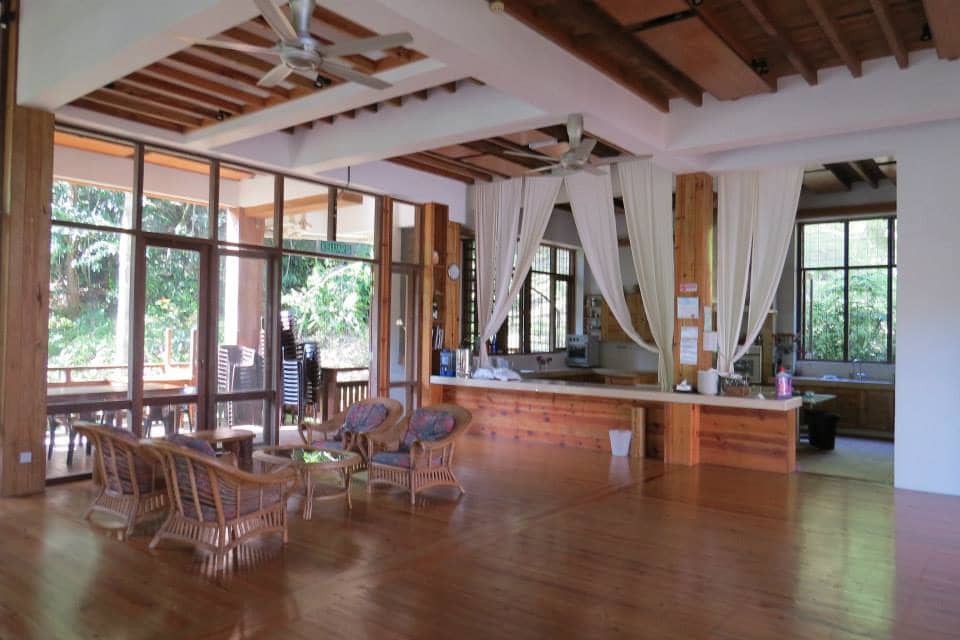 ---
Eight Acres at Raub, Pahang
Eight Acres offer 5 types of housings, and each housing is designed to accommodate different volumes of guests, ranging from groups of 5 to 28 people. The resort has enough space for guests to participate in high-intensity activities, such as ATV riding! Stay a night and take a 4WD (four-wheel drive) to Lata Berembun Waterfall – one of the most famous tourist spots located in Pahang!a At Eight Acres, you can also try your hand at picking fresh fruits and vegetables that are specially grown in their garden – eating fruits and vegetables that you've picked yourself is definitely much more satisfying. Animal lovers, there are also animals roaming around freely on the resort, such as ducks and even a pony!
FOR DURIAN LOVERS: There are many durian trees around the resort, so visit the resort during the durian season and you might get a chance to sample them for free!
Address: Lot 7822, Mukim Gali, Off Jalan Sungai Klau Raub, Pahang
Open in Google Maps
Activities: ATV, 4WD to waterfall, animal feeding, picking fruits and vegetables
Prices: Subject to dates
Social media channels: Website Facebook Instagram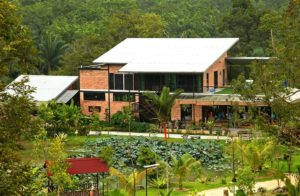 ---
Cabinz Ecottage Retreat at Seremban, Negeri Seremban
If you're looking for a place with a view, Cabinz Ecottage Retreat should be on your list. In addition to spectacular views of nature, the retreat also lets you enjoy unobstructed views of the sunset in the evening and stars in the night from their infinity pool, as their villas are located at the top of the hill, 350 metres above sea level.
Additionally, the resort is located near a jungle and 4 major waterfalls (one of which is Jeram Toi Waterfalls), with the latter located only 30 minutes away from the resort. You can arrange to have the indigenous tribesman from a nearby village to guide you to either the jungle or the waterfalls, for a fee. The jungle trekking trip will take you deep into the forest and to the Batang Penar River, which has rejuvenating rock pools and small waterfalls. If outdoor activities are not your thing, stay at the resort and host barbeque sessions at one of 2 areas: at Sunset Stadium or near the infinity pool. Enjoy the magnificent views as you wait for your food to be cooked – Sunset Stadium gets its name from its location that oversees the beautiful and radiant sunset over the mountains.
TIP: Remember to always check their Facebook first before booking, as they have special packages from time to time!
Address: 86, Seremban, Negeri Sembilan
Open in Google Maps
Activities: Swimming, hiking to the waterfalls, barbequing, bird watching
Prices: Start from RM495 per night
Social media channels: Website Facebook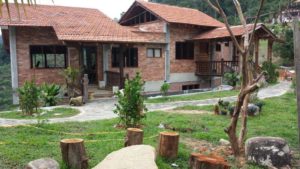 ---
Danau Daun Chalets at Janda Baik, Pahang
You can't get any closer to nature than in Danau Daun Chalets. Built on a piece of land riddled with swap, trees and tropical biodiversity, only 4 chalets are open to the public in order to maintain the quiet and isolated nature of the well, nature retreat. It's a perfect place for families and semi-large groups of friends, with Danau Daun III boasting its own private pool. There is also a barbeque pit for you to have your own barbeque sessions, but if you'd rather have your food cooked by professionals, there is also a jungle themed café located within the premises that offers a variety of Southeast Asian dishes and coffee-based drinks.
Address: Lot 5347, Kg. Sum-Sum Hilir, Malaysia, Kampung Janda Baik, 28750, Pahang, Malaysia
Open in Google Maps
Activities: Swimming, barbeque
Prices: Start from RM260 per night
Social media channels: Website Facebook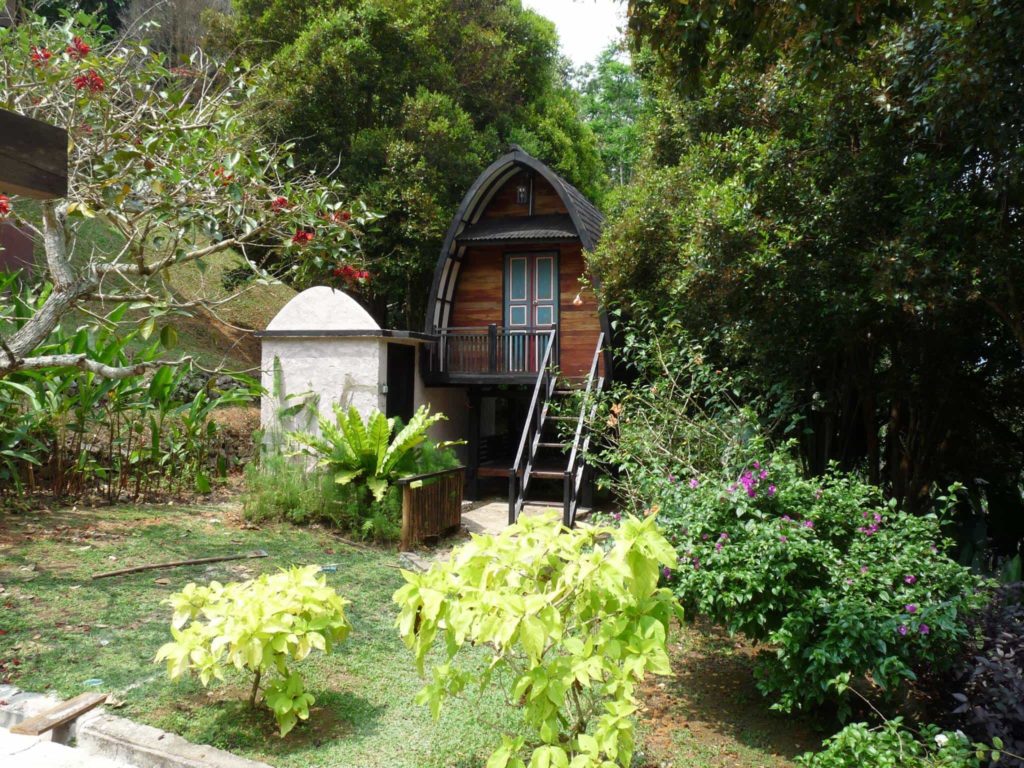 8. Selepas Hujan at Seremban, Negeri Sembilan
Selepas Hujan is located right at the doorstep of Berembun Virgin Forest Reserve, where there are over 4000 acres of undisturbed land. These lands have been preserved since Colonial Times, which adds an air of mystique to the tranquillity that you will no doubt experience during your stay. Enjoy stunning views of nature from the pool or, if you're feeling adventurous, take a trek out to a "hidden" waterfall do some bird watching! Selepas Hujan is the perfect place for people who are seeking peace – away from the bustling city life.
Address: Lot 3154 Pantai Hill Orchard Resort, Jalan Kampung Pantai, Pantai, 71770 Seremban, Negeri Sembilan, Malaysia
Open in Google Maps
Activities: Swimming, hiking to a waterfall, jungle trekking, bird watching
Prices: Their prices are subject to seasons (high and low), so it's recommended that you enquire first via their website
Social media channels: Website Facebook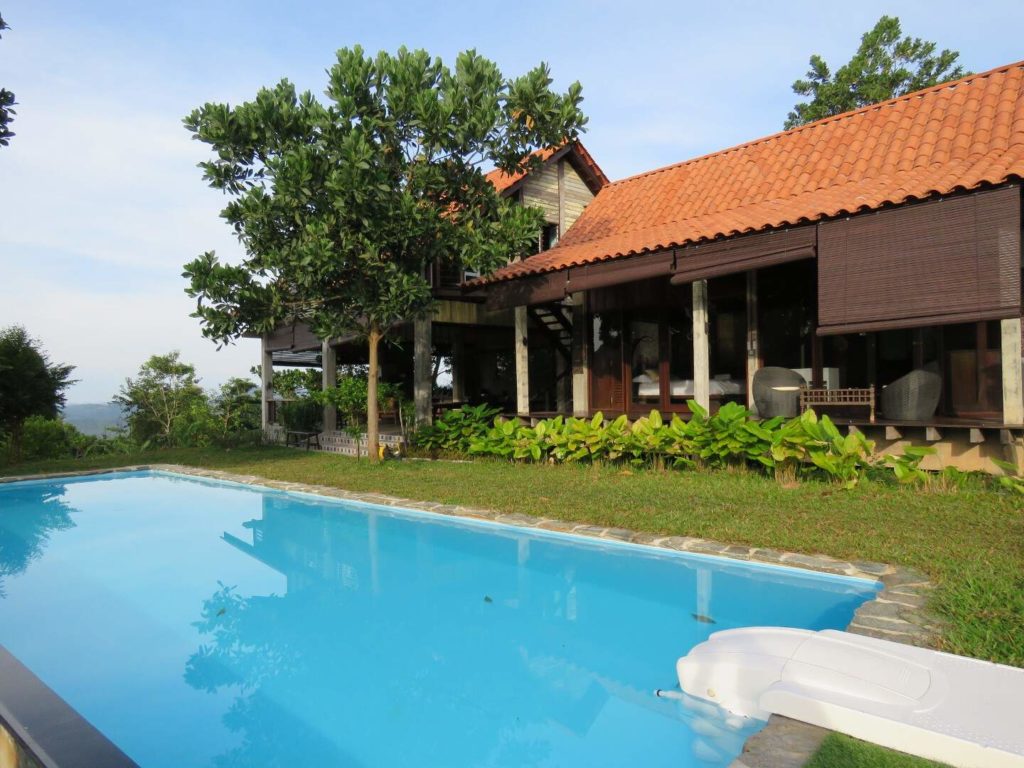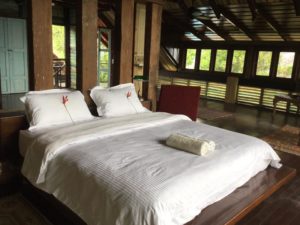 ---
Sekeping Serendah, Rawang, Selangor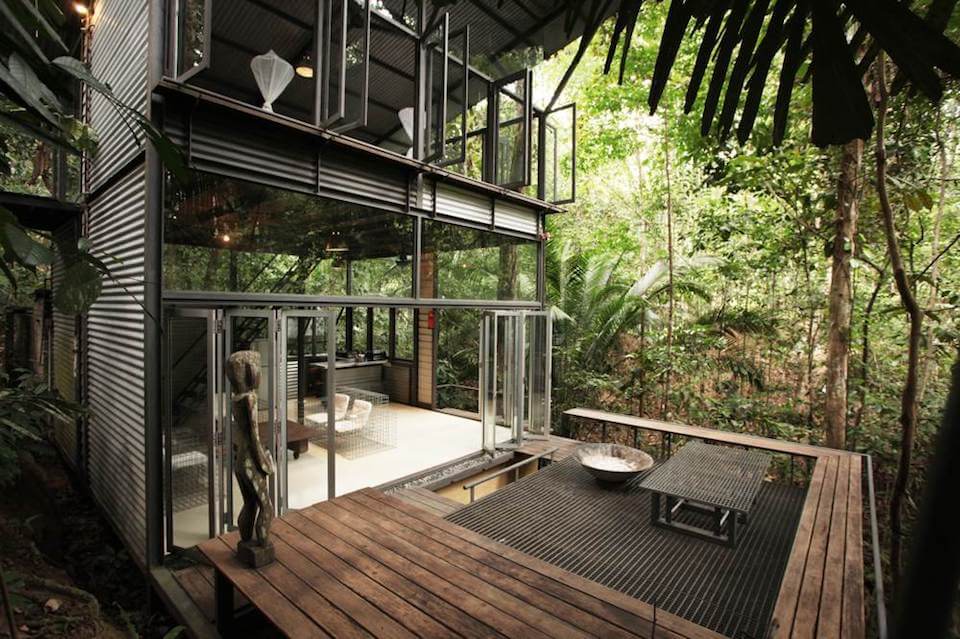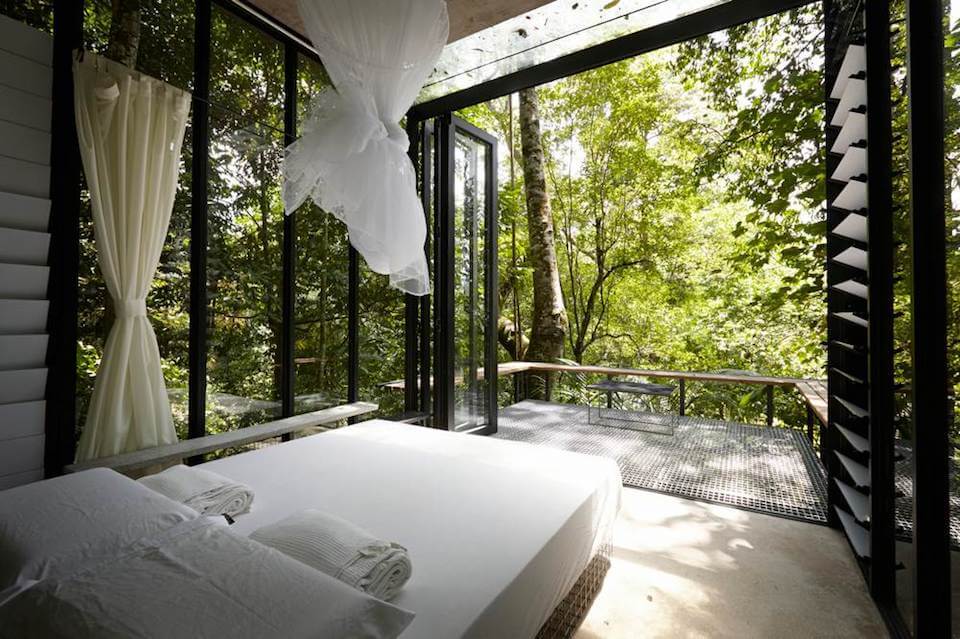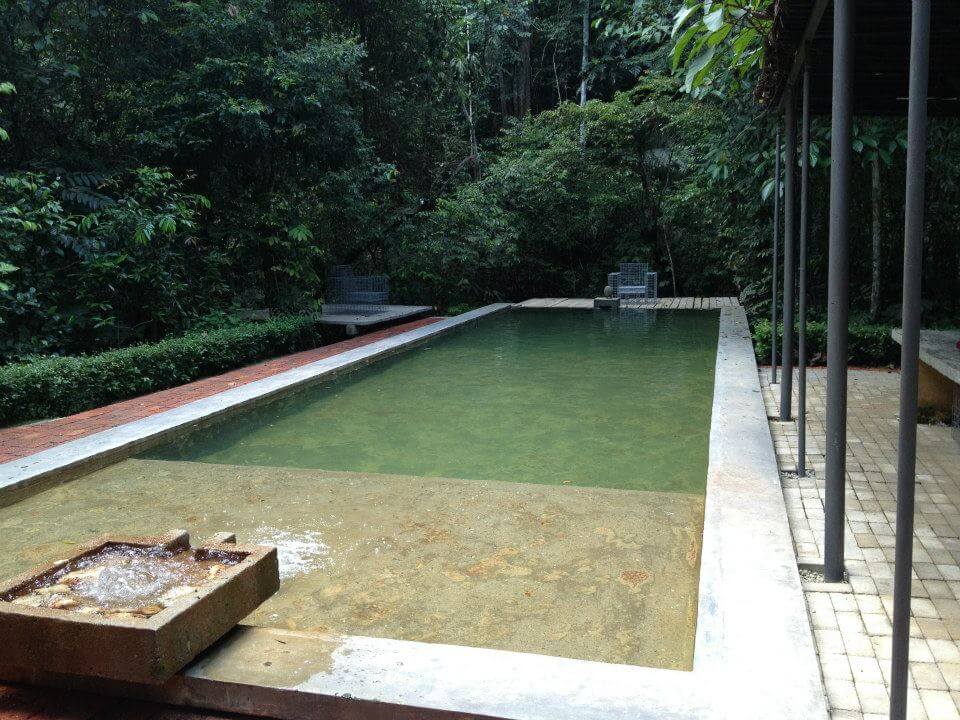 Image via 
About an hour drive north of Kuala Lumpur near the sleepy one street town of Serendah, Sekeping Serendah is a surprisingly beautiful natural private retreat that's clearly built to complement the land and not the other way around! Transparent, open sheds and shower rooms celebrate the beauty of communing with the natural tropical rainforest environment surrounding you. The modern minimalistic sheds are kept quite basic and spartan so the focus stays on nature… the glorious sights, sounds, smells, everything! Choose from 10 sheds set within 5 acres of tropical rainforest for anything from group retreats to a small family or couple getaways.
Address: Chalet, Jalan Ipoh, Kg Orang Asli, Serendah, Rawang, Selangor, Malaysia 48200 | Open in Google Maps
Activities: Swimming, jungle trekking, photography, bird watching, fishing, Orang Asli villages nearby, golfing (Sekeping golf course 10 minutes drive away).
Prices: Start from RM300 per night
Website & Social Media Channels: Website | Facebook
---
Tadom Hill Resorts, Banting, Selangor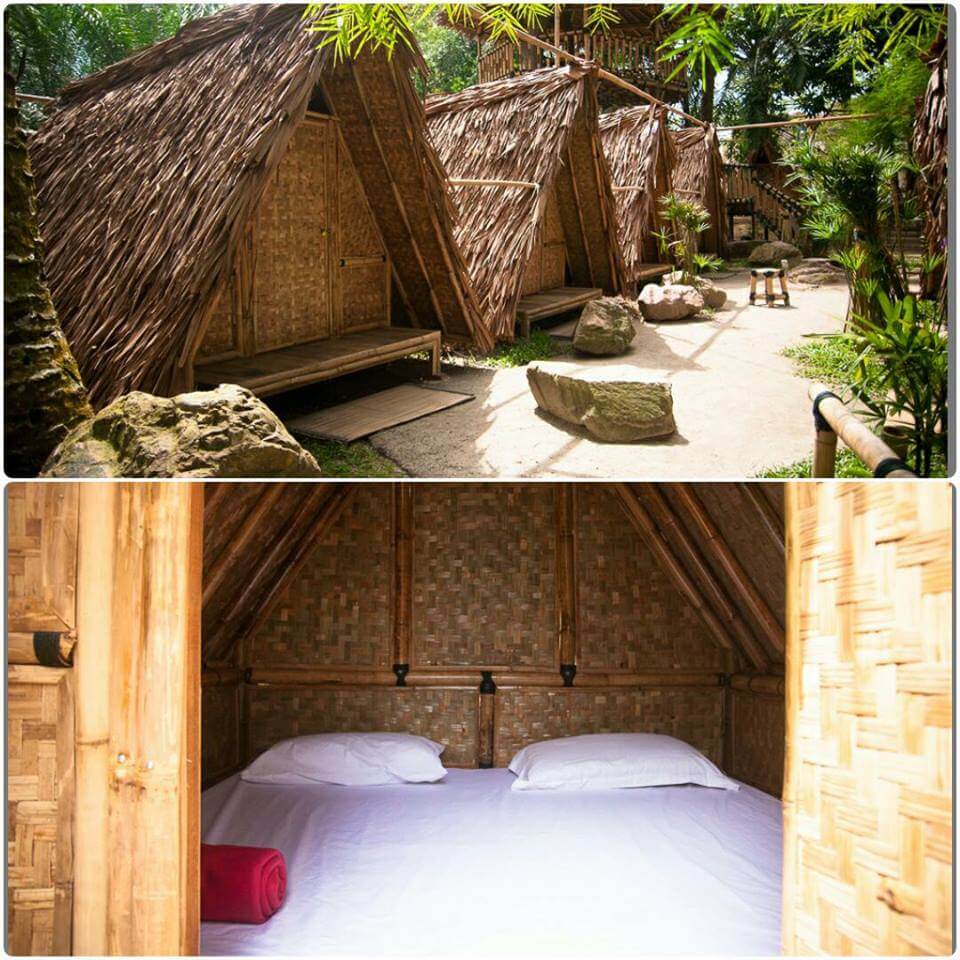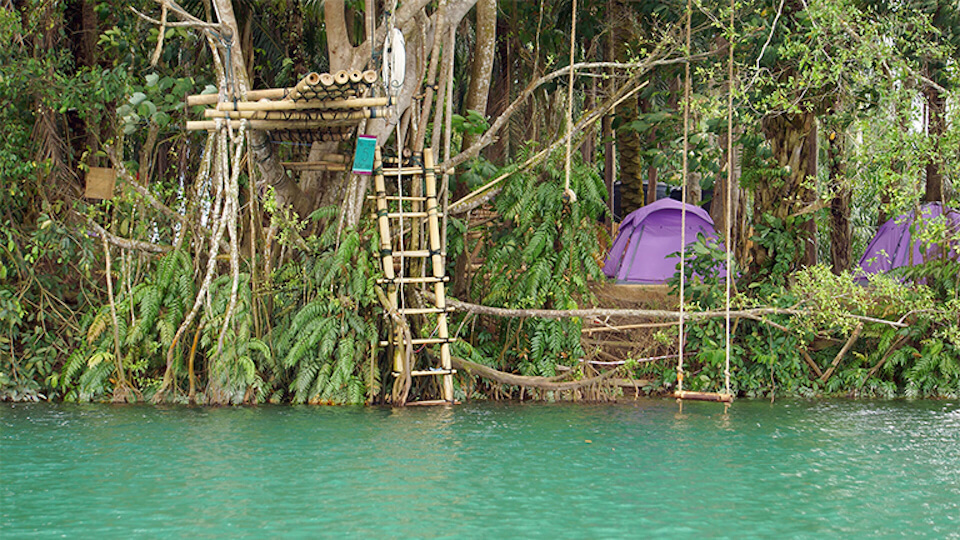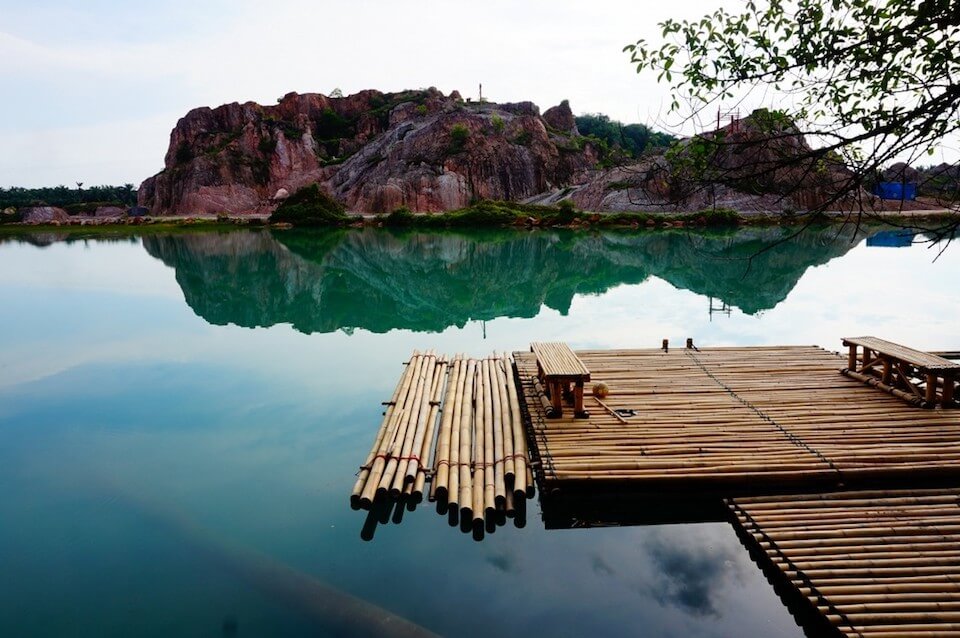 Image via 
Less that an hour's drive away from KL's stifling heat lies the cool promise of quaint bamboo hut living amid 40 acres of limestone hills, lakes and trees! Here, you can unwind in a hammock, swim, and bamboo raft in an enchanting spring water emerald lake, among a host of other water, land and nature adventure activities. Tadom Hill Resorts shares this heavenly piece of paradise with the Orang Asli Temuan of Kampung Bukit Tadom, and its unique accommodation features finely crafted, rustic bamboo furnishing and roofs thatched with nipah palm leaves for a truly cooling, nature-inspired staycation.
Address: Kampung Labohan Dagang, 42700 Banting, Selangor | Open In Google Maps
Activities: DIving, Bamboo Rafting, Swimming, ATV, Abseiling, Flying Fox, Hill Walk, Kampung Walk, Bamboo Picnic, Treehouse, Sports activities, etc.
Prices: Start from RM61 per night
Website & Social Media Channels: Website | Facebook
---
Farm Ville Cafe Homestay AKA Sekinchan Container Hotel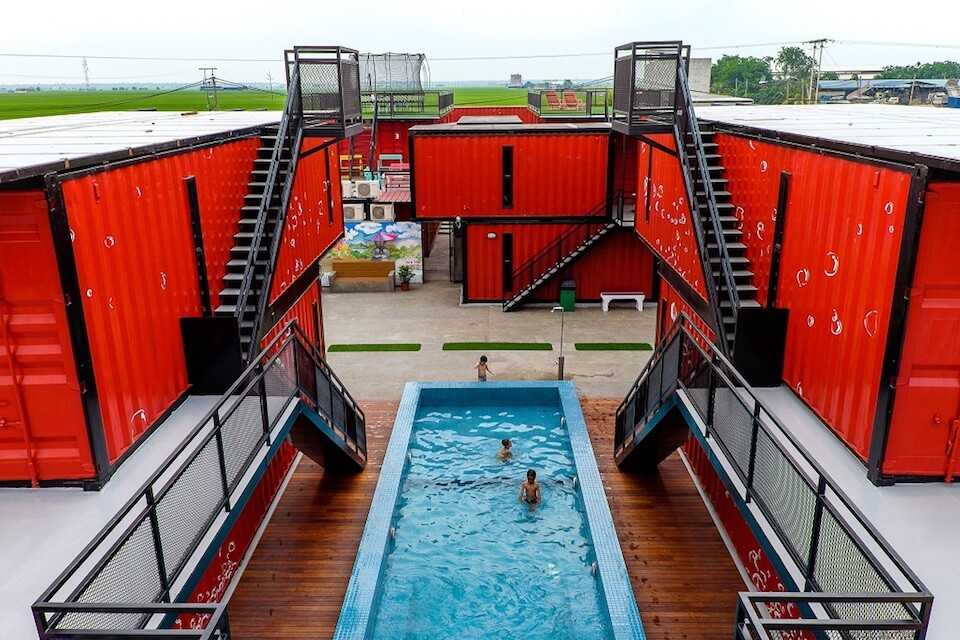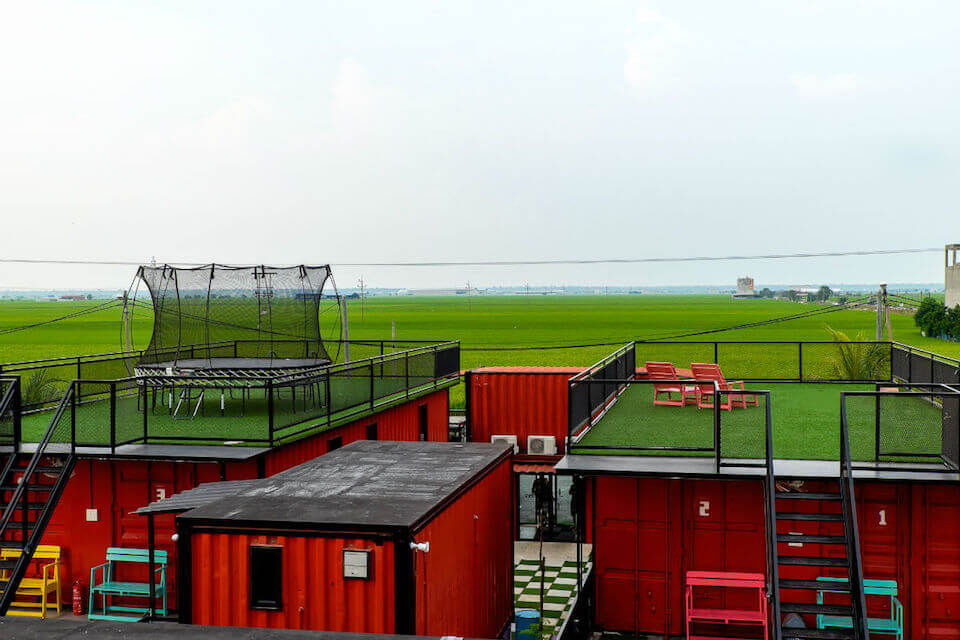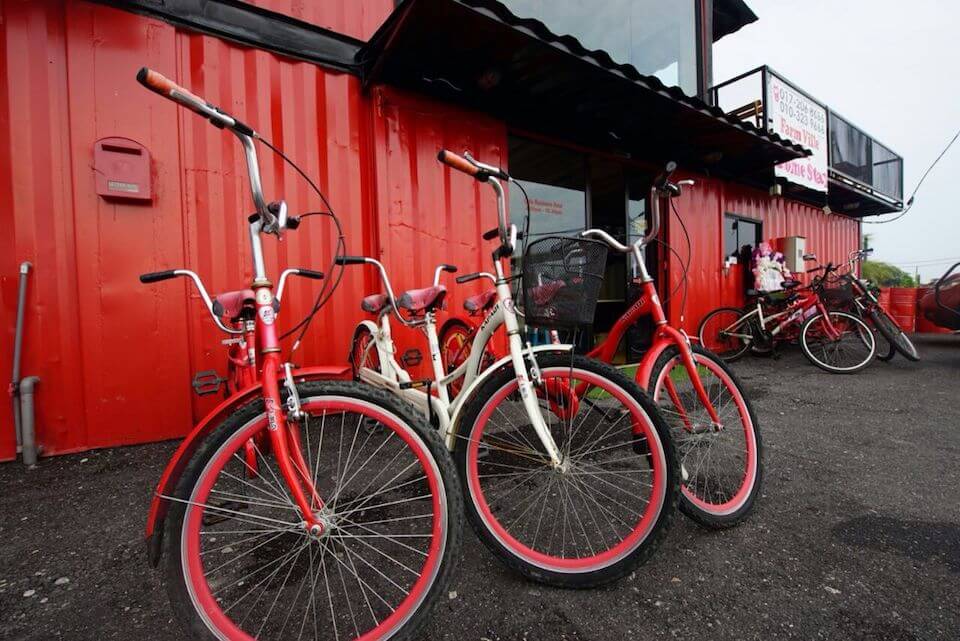 Image via 
Famous for its wide open seas of golden paddy fields, Sekinchan boasts a peculiar bright red attraction that sticks out like an industrial anomaly amid the vast greenery of paddy trees… It's more popularly known as the Sekinchan Container Hotel and for good reason: Farm Ville Cafe Homestay is made out of converted metal boxes that were once used to transport goods! Now the containers house weary travellers looking for a luxurious breakaway in full view of the famous Sekinchan paddy fields. Besides paddy, visitors to Sekinchan can explore many other local attractions within 5 minutes driving distance and restaurants offering tasty seafood at bargain prices in the coastal town.
Address: 11304, Jalan Tepi Sawah, Sekinchan, 45400 Sekinchan, Selangor | Open In Google Maps
Activities: Paddy Factory, Sunset Watching at Pantai Redang, 3D Art Gallery, Nan Tian Temple, Bicycling, Buggy Traveling or Sunrise Watching at Paddy Fields, La Famillia Orchard, Ah Ma House, Fisherman's Wharf, Kuala Selangor Nature Park, Firefly Park, Eagle Watching, Melawati Hill, Fresh Seafood and Local Food Hunting.
Prices: Start from 98 per night
Website & Social Media Channels: Website | Facebook
---
Rockbund Fishing Village, Teluk Meroh, Perak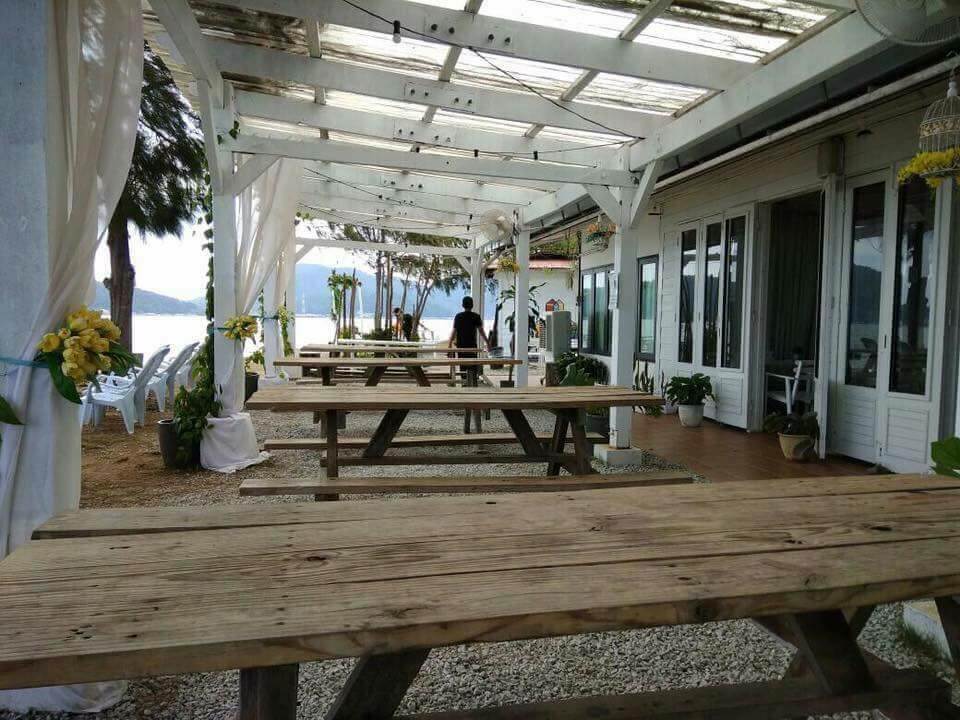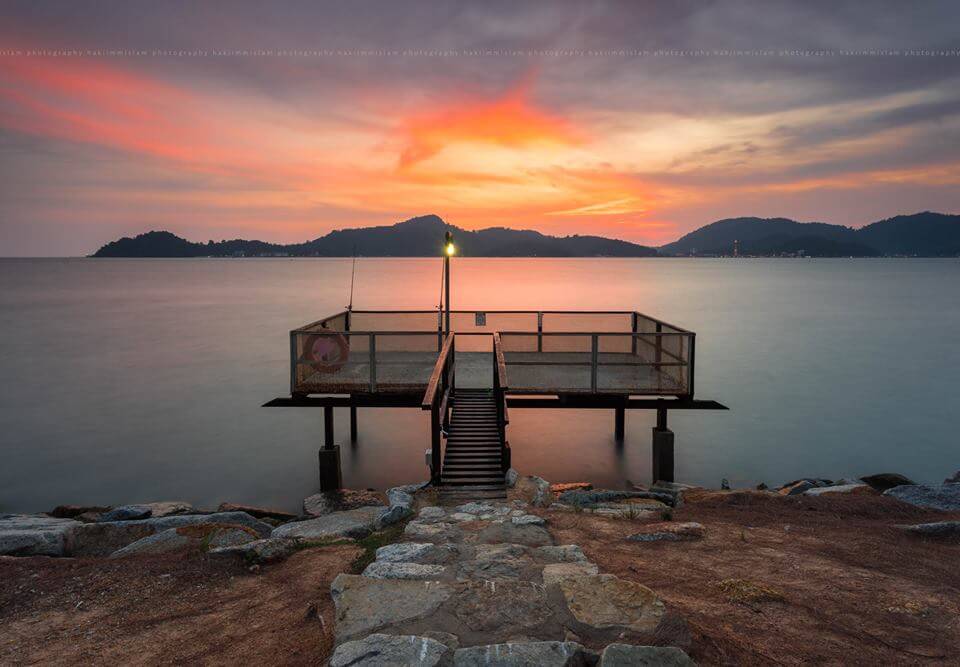 image via
If the sea calls out to you, then this remarkably secluded hidden gem of Marina Islands is a must visit! Rockbund consists of 21 cute colourful cabins fronting a mesmerizing coastal sea view that alters colour with every breathtakingly beautiful new sunrise and sunset. Rockbund Fishing Village is more than just a fishing chalet of course, as visitors can enjoy island hopping or snorkeling, cruising, BBQ, seafood dining and other seaside activities along the beautiful laidback coast of Teluk Meroh, Perak.
Address: Marina Island KM1, Teluk Muroh, 32200 Lumut, Perak | Open In Google Maps
Prices: Start from RM283 per night
Website & Social Media Channels: Website | Facebook
---
Your Turn
Do let us in, on places and weekend gateways near Kuala Lumpur you think, we've missed in the comment box below.
---
12 HIDDEN GEMS FOR RELAXING GETAWAYS NEAR KUALA LUMPUR!https://t.co/5e8fmTUpa1#MalaysiaTrulyAsia #TourismMalaysia #DekatJe pic.twitter.com/TXbPElkSAD

— Tourism Malaysia (@TourismMalaysia) August 26, 2018