Get A FREE Tune TrIP Travel Insurance Plan When You Convert your Currency with CurrenSeek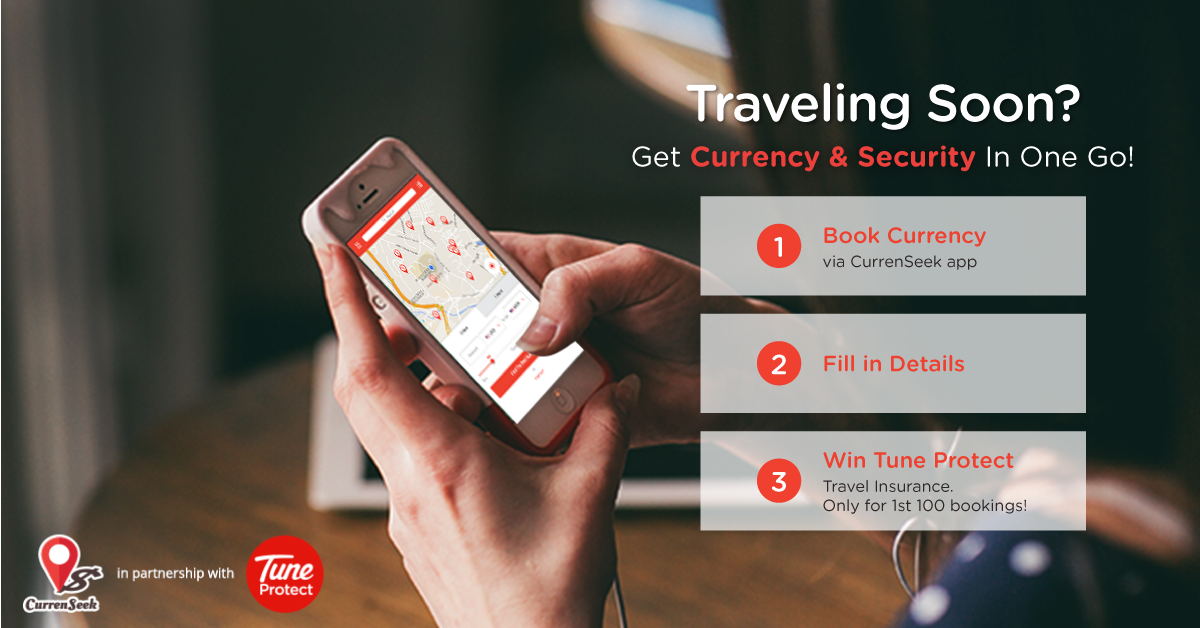 As a savvy traveller planning ahead for your next vacation or business trip, you can now make the most of your travel currency and safeguard your travels at one go. In line with CurrenSeek app's major new launch update, you can book your currency easily and enjoy the best exchange rates in town. Another plus point is if you're amongst the first 100 customers, you'll get a FREE Tune TrIP Travel Insurance Plan, specially for CurrenSeek customers.
In partnership with Tune Protect, CurrenSeek offers better travel savings (do you know you can save up to 20% when you compare currency exchange rates and book your currency via the app?) and added security with a FREE Tune TrIP.
Terms & Conditions
1. Free travel insurance is applicable for the first 100 customers who complete currency conversion transactions by booking foreign currency amounting RM2,000 and above (per customer) and collecting the booked currency from their chosen moneychanger. Campaign runs from 6th December 2016 (*eligible transaction*).
2. No promo code is required to get FREE travel insurance. Once the customer completes a currency conversion transaction (*eligible transaction*), here are the steps for insurance activation:
CurrenSeek will contact customers via registered email within 7 working days to obtain their personal and travel details for travel insurance activation.
Customers must fill up the details within 14 working days, otherwise the FREE travel insurance will be forfeited.
CurrenSeek will activate the travel insurance within 7 working days upon receipt of details from customer.
Once activated, a certificate of insurance will be sent to the customer's email address. No cancellation or modification of the travel insurance details is allowed.
3. Limited to one (1) FREE travel insurance policy per eligible transaction.
4. Applicable for customers who travel to Asia Pacific countries for a maximum of 5 days. If the customer travels for a longer duration than 5 days, there will be no insurance coverage for the remaining days.
5. Applicable for all Malaysians or Residents who have a permanent address in Malaysia and are departing from Malaysia.Travelling date for the FREE travel insurance is within 1 year from receipt of confirmation email by Currenseek on customer's eligibility.
6. FREE travel insurance is sponsored by CurrenSeek and not exchangeable with cash, discounts or other products. For any queries on this campaign, kindly email us at hi@currenseek.com.
7. FREE travel insurance policy is called Tune TrIP, underwritten by Tune Insurance Malaysia Berhad. For more information on the travel insurance policy, kindly visit: https://www.tuneprotect.com/products/tune-trip-travel-insurance/
Countries covered include: Afghanistan, Australia, Bangladesh, Bhutan, Brunei, Cambodia, China (excluding Mongolia, Nepal & Tibet), Hong Kong, India, Indonesia, Japan, Korea, Krygzstan, Laos, Macau, Maldives, Myanmar, New Zealand, Pakistan, Philippines, Sikkim, Singapore, Sri Lanka, Taiwan and Timor Leste, Thailand, Uzbekistan and Vietnam.
Comments are closed.