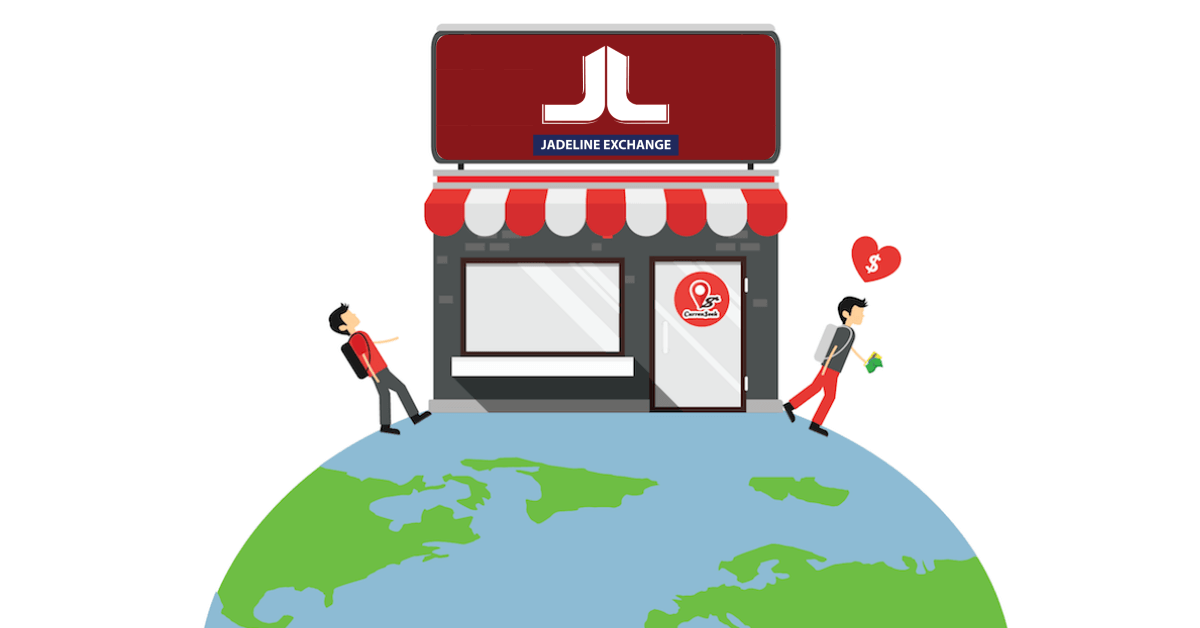 We're happy to introduce our latest partnerships with licensed money changers within the Malaysian currency exchange community who are now accepting quick and easy currency bookings via the CurrenSeek app. At CurrenSeek, we're not only striving to make currency exchange easier, fairer, faster and more rewarding for travellers, our end users—but also establishing mutually-beneficial relationships with the key catalysts in the money changing business (namely, responsible money changers) who are open to adopting new financial technology (FinTech) solutions to serve their customers better.
Note that all money changers listed with CurrenSeek are licensed and authorised by Bank Negara Malaysia to buy and sell all types of foreign currencies. If you're travelling overseas soon and searching for a good money changer in Bangi, look no further! Here's CurrenSeek's latest FinTech-ready partner money changer in Bangi for your consideration:
Jadeline Exchange  
@ Evo Mall, Bangi
Jadeline Exchange  
@ Komplex PKNS, Bangi
Jadeline Exchange

 

 @ KIP Mall, Bangi
Bangi is a small town located in Selangor, situated between Kajang and Putrajaya and it's about 40 km away from the capital city, Kuala Lumpur. It's surrounded by palm oil estates, most of which were converted to townships over the recent years. Bangi is considered part of the Southern Corridor of Klang Valley and has been developing due to the emergence of Putrajaya, Cyberjaya and KLIA. It shouldn't be confused with Bandar Baru Bangi (BBB) which is a larger township founded more recently. BBB situated about 15-25 km from north of the original Bangi town, closer to Kajang town, where modern living of Bangi starts. Despite its size, Bangi has its own KTM Komuter station and can be accessed via North Klang Valley Expressway (Putra Mahkota interchange), LEKAS Highway and South Klang Valley Expressway (SKVE).
WHY Jadeline Exchange Sdn Bhd
Besides offering competitive exchange rates and its convenient locations, Jadeline Exchange has a new website — Powered by CurrenSeek — with the rates that are updated regularly. Check out their website here.
Using their website, you can now conveniently order your currency online in advance which helps you to avoid note shortages when you arrive to collect at their branches. In addition, by ordering in advance, you can lock-in exchange rates which in turn protects you against adverse rate changes.
Should you have any special requirements while booking online, you are able to let their friendly staff know with an instant messaging feature built into the online booking platform. Last by not least, soon you will be able to pay electronically to Jadeline Exchange, so no more hassles with carrying enough Ringgits around or relying on ATMs to draw cash before heading to their branches. So stay tuned!
Beyond facilitating money exchange, Jadeline Exchange offers remittance services which are available in over 149 countries worldwide, including Philippines, Nepal, Bangladesh, India, Indonesia and Pakistan. As a remittance agent, the company offers fast, secure and convenient money transfers for the large population of foreign workers and international professionals working in Bangi and nearby areas.